SN 75-53
Boeing Stearman Model: B75N1 (E75)
Navy Designation: N2S-5 / PT-13D
Built in 1943 (1944)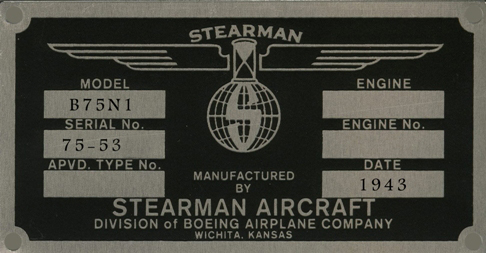 This B75N1, powered by an Lycoming R680 engine, has been delivered to the Navy Flight Training units in 1943.
In the year 1948 it was sold by the US Government as military surplus for an amount of $500.- to Roger Dean Heuer, Illinois.
From 1952 on it flew as agricultural airplane for Planters Flying Service in Arkansas.
In 1965 the airplane was converted to a PW R985 Engine and in 1968 equipped with a Banner Tow Hitch. The following years it was in use for banner towing.
In 1973 it was bought by Waddell Airport Corporation, Illinois and ended its civilian career in the 1980's, when it was, together with our other Stearman projects, disassembed, preserved and put into storage, from where we recovered this airplane.